The Karagias Living Room and Dining Room Makeover
I love to create spaces that feel cozy and livable. A few months back a family friend contacted me in need of a dining room makeover. At our consultation I went over my design ideas and how we could transform the space. I noticed that Lynne's "living room" (the space beside the dining room) didn't necessarily look "lived in". This space did not really have a functional layout. Lynne mentioned that no one really hung out in the room other than their sweet dog Coby. I asked if it would be possible to transform both spaces and create two areas where their family could entertain in. After some thinking Lynne and her husband agreed and we quickly got to work on both spaces.
The Living & Dining Room Before:
The living room space was long and narrow. Before there was large, bulky leather furniture that made this space look even more dark than it was. I decided to create two zones in the space. One zone would be the living area where we would set up chairs and a sofa around a large area rug. The other zone would be for the beautiful antique piano and a reading nook with some shelving.
Before, the dining room was painted a rich orange colour. I wanted to create some contrast between the two spaces but also wanted to make sure that there was still a nice flow. Instead of going light in this space we decided to paint all of the walls a dark charcoal colour that had a deep blue undertone.
The Living Room & Dining Room After:
We used some of Lynne's old pieces in the living room like her side tables and the piano. We also made sure to incorporate her father's beautiful art pieces and paintings which we scattered throughout the room. A lot of the new furniture were purchases from Wayfair, Homesense and IKEA, including the new billy bookcase storage unit that totally upgrades the look of the space. My sister Melissa got her DIY on and painted the backs of the bookcases the same rich colour that we have in the dining room. This made the shelves look more custom. All of the furniture in the space was affordable and compliments each other , tying in the old with the new.
For the dining room we reused Lynne's large cherry wood dining table. We bought new upholstered , charcoal grey dining chairs from COSTCO and I created a customized, narrow wall-mounted console using IKEA'S BESTA units. We kept the beautiful brass chandelier and paired it with more modern pieces. The large piece of art that we purchased at Homesense ties in all of the colours we used in both spaces. I love it!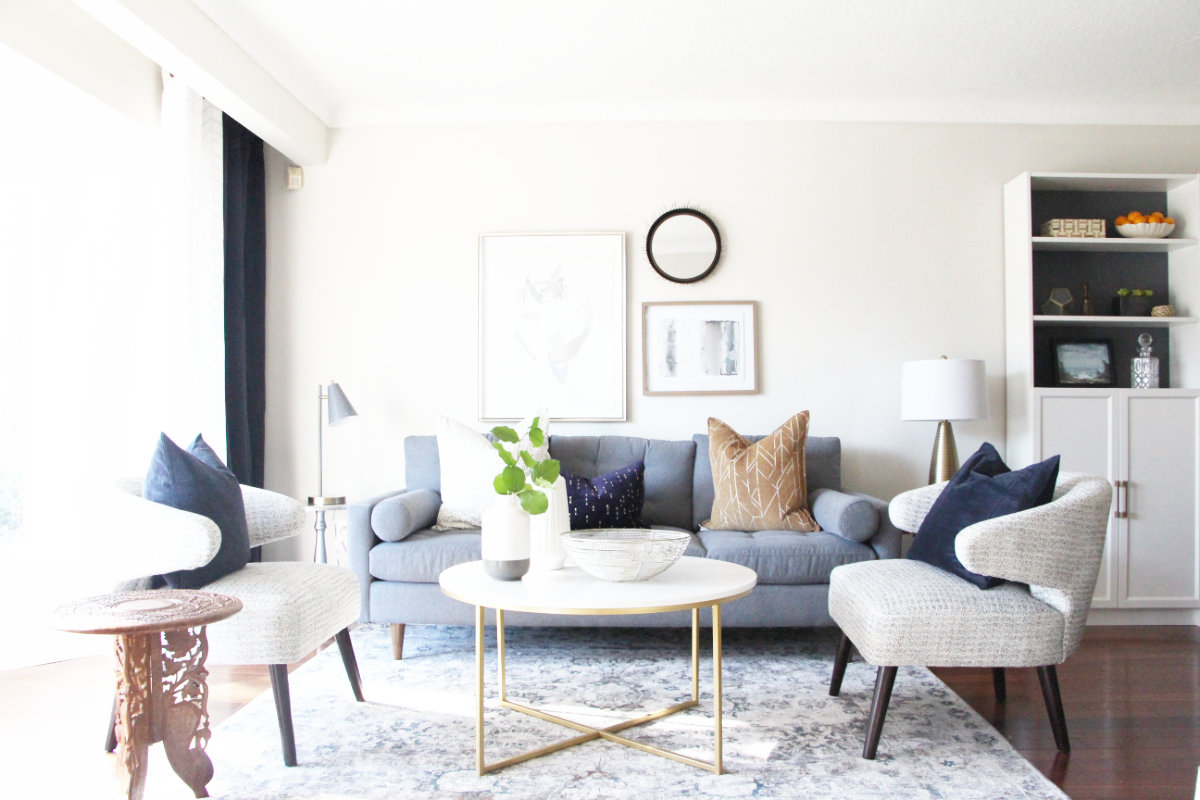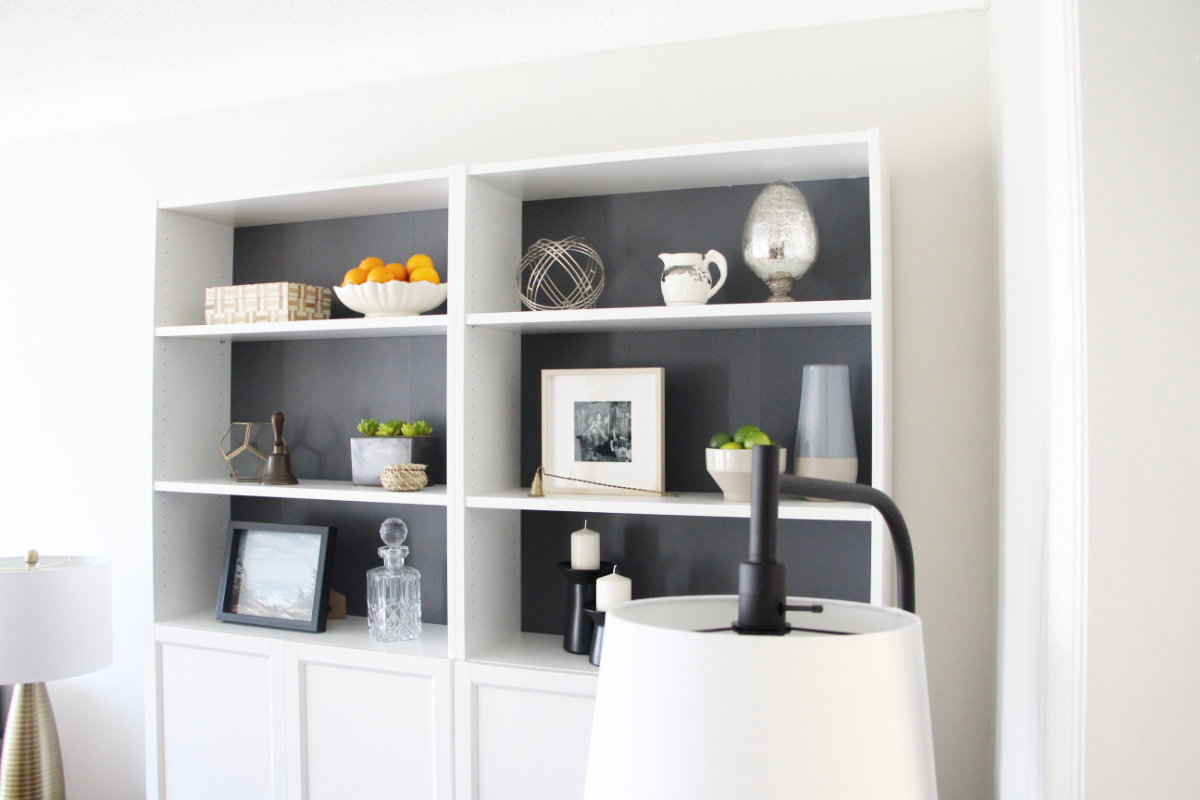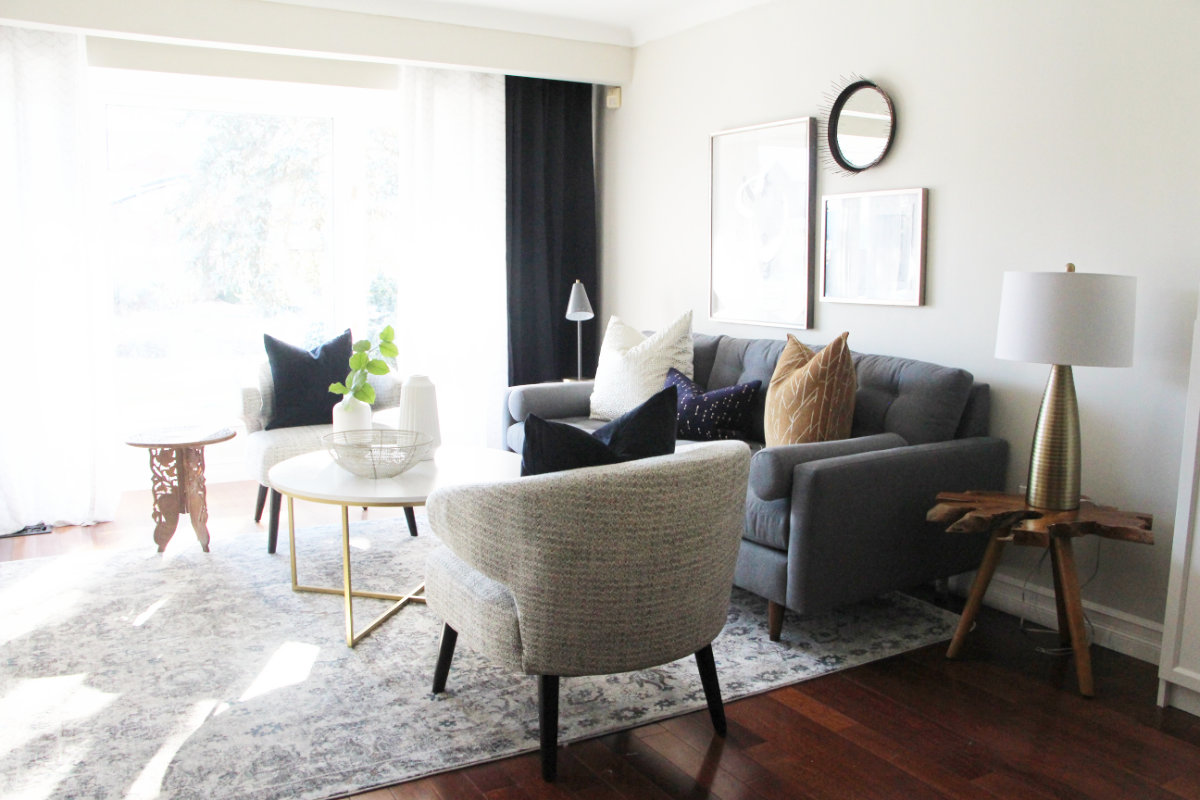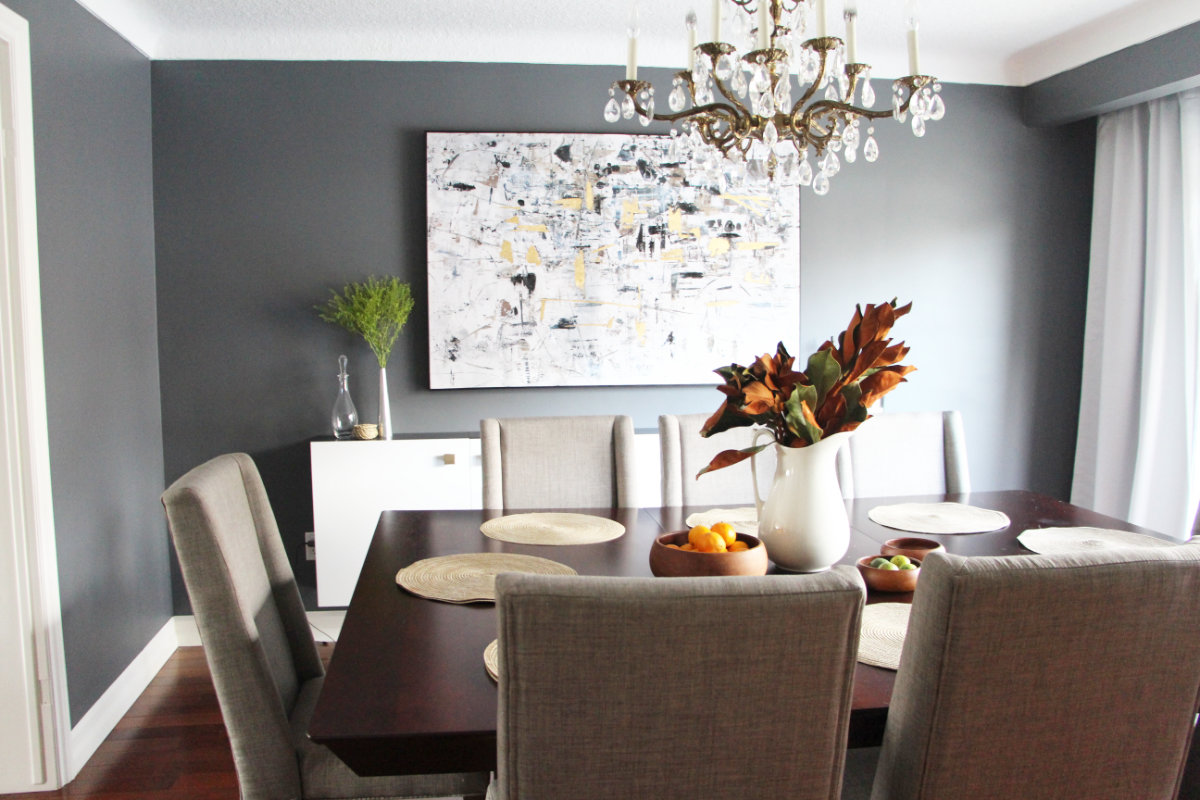 I am so thrilled with this transformation. Now Lynne and her family have two beautiful new spaces to entertain in! I was ecstatic when I received a message from Lynne saying that her new living room space is now her "get away" room where she curls up to read a book on the sofa, enjoys a glass of wine or gathers together with her girlfriends. Projects like this are why I love what I do!
Until next time,
Marcy xo